The Family of Lyle and Ethel Faulring Zahler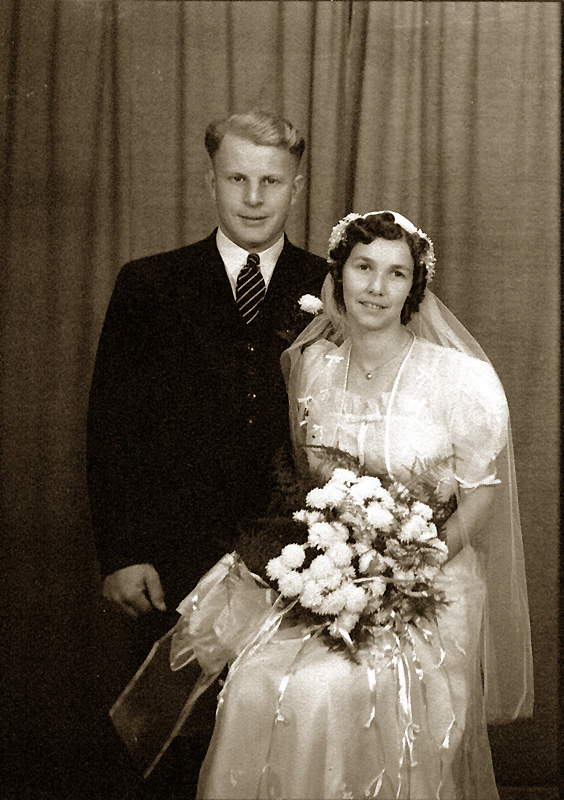 Lyle and Ethel Zahler, 1939
---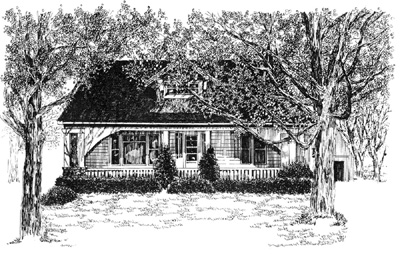 Sketch of Boston Home
Both Lyle and Ethel were born in Erie County, New York, where they were married on October 11, 1939. Initially, they lived in Sardinia, New York in an upstairs apartment, located on the corner of Savage Road and Matteson Corners Road, which they rented from the Place family. In 1942 they moved to Boston, New York, where they lived for nearly 60 years, most of the time in the family home on Boston Cross Roads. There, they raised a family of five children.
---
i.
Warren Leigh Zahler
Warren married Lucy Perez.
ii.
Carl Herold Zahler
Carl married Shirley Osstifin.
iii.
Earl Lyle Zahler
Earl was born on July 25, 1945, and he died on November 11, 2005.
Earl married Robin Johnson.
iv.
James Allen Zahler
James married Deborah Neilsen.
v.
Margaret Ethel Zahler
Margaret married Anthony Bonasera.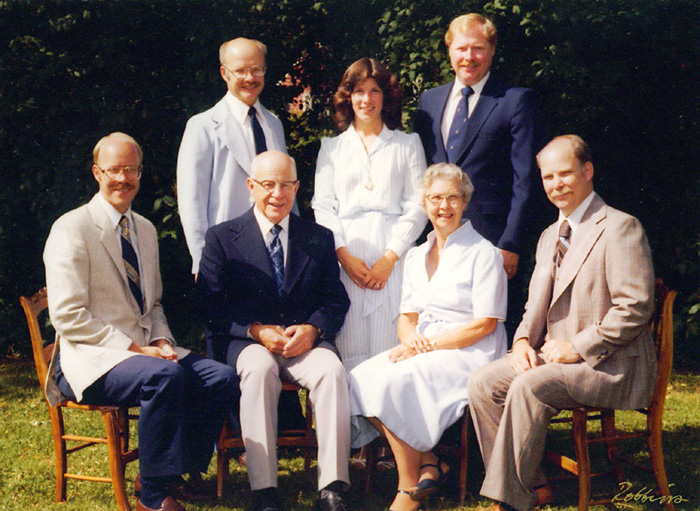 Family of Lyle and Ethel, 1983, Celebrating Lyle's 70th Birthday
---
Lyle Herbert Zahler was born July 23, 1913, in the Town of Sardinia, Erie County, New York, the son of Floyd Zahler and Wilhelmine "Minnie" Merlau. He grew up on their 50 acre dairy farm located on Savage road near its junction with the Matteson Corners Road. While growing up he attended school in Sardinia, helped on the farm and generally enjoyed rural life.
As a youth and young adult, Lyle developed two life-long interests: baseball and hunting. Early on, baseball was an avid summertime activity. Lyle played for the Sardinia town team which competed with teams from surrounding towns. Other team members included his cousins, Jess and Gordy Tharnish, who lived on an adjacent farm; their father, Uncle Clare, served as the team's coach. By all reports, the team was very competitive; cousin Jess even aspired to a career in professional baseball and played in the minor leagues. Lyle's interest in baseball remained over the years. Not only did he follow games on the radio and then TV, he also coached Boston's little league teams and served as Vice President of the South Towns Baseball League.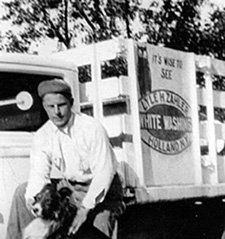 Lyle's Whitewash Truck
Hunting was Lyle's other passion. When school and farm work allowed, he would take his dog Shep into the field and woods, hunting fox, raccoon and other wild animals, even treeing a skunk at times. Lyle continued to hunt throughout his life and, since he worked seven days a week for many years, Lyle focused on raccoon, which he could hunt at night.
Lyle was educated in the Sardinia schools and graduated from Sardinia High School as class Valedictorian on June 25, 1930. The subject of his valedictory speech was Thomas Edison. We were told that Lyle wanted to attend college, however, this was the time of the Great Depression and, anyway, his father could see no use of a college education. Lyle therefore continued to help on the farm while beginning an independent career whitewashing barns.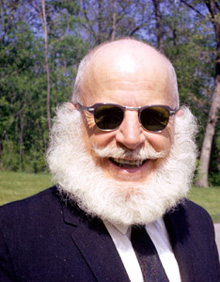 Town of Boston Sesquicentennial Beard
Soon after World War II began, Lyle was drafted into the Army. However, before he could report for duty, the County Health Department intervened, citing Lyle's occupation as essential to maintain public health. As a result, he was exempted from the draft and spent the war years white washing barns in the summer and working in an aircraft factory at Warsaw, New York, in the winter.
In 1945, Lyle attended a two-week training session in Ithaca, New York, to learn the techniques of artificial insemination. Following his training, Lyle was employed by New York Artificial Breeders Cooperative, breeding cows in the southern portion of Erie County. While breeding cows meant working seven days a week, the flexible hours and contact with farmers suited Lyle well. Lyle's career breeding cows lasted over 30 years ending with his retirement in 1976.
Throughout his adult life, Lyle continued his favorite activities, hunting raccoon at night and coaching little league baseball in the summer. He was active in the community as a member of the Methodist Church, as a volunteer fireman and as a representative from Boston on the school board. Any depiction of Lyle would be incomplete without noting his love for music: From singing in a community chorus and church choir to playing the harmonica for his children and grandchildren. Lyle always brightened one's day with a song.

Chaplain's Pin

Fireman Service Award
After retiring in 1976, Lyle remained active in the church and community and continued hunting raccoon. In his spare time, he took up woodworking, using his skills to create miniature, cane-seated chairs and various Christmas decorations, which were sold at church bazaars. But, most of all he enjoyed traveling with Ethel to visit his grandchildren. They made regular trips to Texas, Missouri, Michigan and Long Island.
In his last couple of years Lyle suffered from Alzheimer's disease, which took an increasing toll on his memory. Lyle died on January 7, 1997 at the age of 83.
---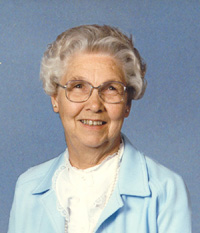 Ethel
Ethel Barbara Faulring was born December 8, 1914, the daughter of George Faulring and Alice Needham. The first of two children, Ethel grew up in the Town of Boston, then a rural township south of Buffalo. She attended school in Boston and Hamburg, New York, graduating from Hamburg High School in 1933. After graduation, she attended Fredonia Normal School (now the State University of New York at Fredonia), at the time a three year teacher's college. Ethel graduated in 1936; a member of the last class awarded a life certificate to teach in New York. Upon graduation, Ethel began a teaching career in the local schools.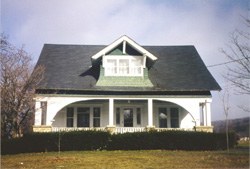 Home in Boston
Ethel was always a strong minded woman, who would have her say, and usually her way, in matters. In her youth, she had an active social life, including dating her future husband, Lyle. It is said, that they (she) postponed marriage while she established herself as a teacher. In the end, however, they were married on September 11, 1939. But not before Ethel made a cross country trip with her cousins, Kathryn and Florence May to attend the 1939 World Fair in New York and San Francisco.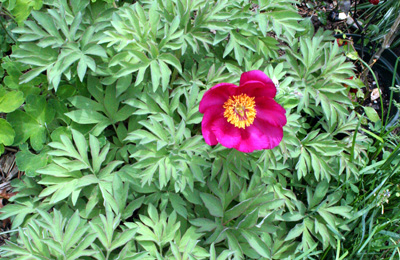 Old Fashion Peony
from Ethel's Mother-in-Law
After marriage, Ethel's career soon became that of housewife with the arrival of her first child in 1941. Four more would follow over the next 10 years. Ethel remained active in the community as well, particularly in Church. She was a member of the Methodist Church, known today as the Churchill Memorial Methodist Church. Over the years, she participated in many church functions, but was particularly known for starting a chair caning class. Anyone interested in learning how to replace the seat in a cane-seated chair was welcome. Of course, the sessions were full of socializing and many "students" returned year after year for the shear enjoyment. With the help of good friends, Ethel continued the class as long as she was able and those friends still continue to meet 'til this day.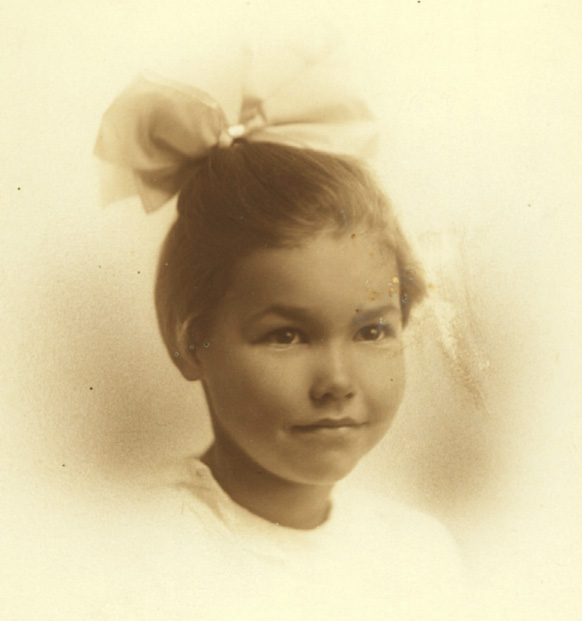 Young Ethel
In 1957, as her children approached college age, Ethel resumed her career as a first grade teacher in the Springville Central School system. She greatly enjoyed teaching the young children in her classes. In the summer, one of Ethel's favorite activities was gardening, a pastime she begin many years earlier. Each year she would plant a vegetable garden, at first near the barn and later out behind the tennis court/back lawn. The rows would contain assorted vegetables, such as beans, peas, potatoes and carrots. Somewhere around the yard would be a patch of rhubarb and thorny raspberry bushes. In addition to vegetables, Ethel prized her many flowers, particularly the long row of gladiolas, which fronted the vegetable garden, and several bushes of peonies along the driveway. Of course, this was all made possible by the efforts of Lyle tilling the soil and helping with planting and weeding.
Along with her husband, Ethel retired in 1976 to enjoy her many social activities and to visit her many grandchildren spread throughout the central and eastern U.S. Over the years, Ethel had accumulated a large collection of heirlooms, trinkets and other collectibles and one of her greatest joys in retirement was to organize her "Treasures". These she carefully arranged in the basement on an equally interesting collection of shelves, tables and bookcases. Ethel delighted in inviting friends and visitors to her basement to a "show-and-tell" session.
In her final years, Ethel continued to demonstrate her strong will while fighting forgetfulness and Alzheimer's disease. After a long struggle, she passed away on March 8, 2008, at the age of 93.
---
Top | Back to George and Alice Faulring | Back to the Beginning