The Family of Oliver Needham and Lodisa Green
Our Needham ancestors came from England to in Salem, Massachusetts, about 1650. After, a couple generations, members of the family began a westward migration, eventually reaching Western New York and finally, Wisconsin and Minnesota. These pages begin with Oliver and Lodisa Needham, who established our Needham family in Western New York.
Sixth Generation
---
Oliver Needham was born on March 8, 17881, at South Brimfield, Massachusetts, the son of David Needham and Marsylvia Ainsworth. He grew up in South Brimfield on the family farm and was still living there in 18102. On January 14, 18131, Oliver married Lodisa Green at South Brimfield. Lodisa was born on February 26, 1791, the daughter of Aaron Green and Lydia Needham1. Oliver and Lodisa were second cousins.
Oliver and Lydia began housekeeping on the east side of Wales pond (now called Lake Needham) in South Brimfield3. They live there for eighteen months before movng to Belchertown and then to Stafford, Connecticut3. Their first child was born in South Brimfield. Before 1817, the year their second child was born, Oliver and Lodisa had moved to the neighboring Town of Stafford, Connecticut. They lived Stafford for about four years before moving west3. In 1819, Oliver and his family left Stafford and made the long trek across New York State. Eliza Needham Trevett, his granddaughter, describes the trip as follows3.
"On September 1819, they started for Western New York with a one-horse wagon. They were 13 days coming to Attica, stayed there 2 days, then were 2 more days getting to Boston Corners. The next day, October 3, 1819, they arrived in Concord Valley, at the home of Stephen Needham, who was a distant cousin of Oliver's. Stephen had 100 acres of land on the north line of lot #6, town 7, range 7, of the Holland Company Survey.
Oliver contracted for 100 acres south of Stephen's on the same lot, and began immediately to build a log house. This land was covered with an immense growth of hemlock, beech and maple timber. The following May (1920) the log house was done and they moved in with their 2 sons, Laban A. and Charles."
In 1850, Oliver and Lodisa were living on their farm with son David4. However, by 1860 and thereafter, Oliver and Lodisa lived with their son Green on the family farm5,6, which he eventually owned. Oliver died on September 4, 18723, and Lodisa died on August 17, 18753. They are buried in the Sibley Cemetery, on Sharp Street, Town of Concord, in the family plot. The plot is marked by a obelisk documenting Oliver and Lodisa's family.
&nbsp
The children of Oliver and Lodisa were:
Seventh Generation
---
| | | |
| --- | --- | --- |
| i. | Laban Ainsworth Needham | Laban was born on November 4, 18131, and he died on July 28, 18903. Laban married Mariam Twitchel. |
| ii. | Charles Needham | Charles was born on October 2, 18173, and he died on March 28, 18973.&nbsp Charles married Eveline Glorvina Matin. |
| iii. | Aaron Green Needham | Aaron Green was born on April 1, 18233, and he died on August 16, 19053. Aaron Green married (1) Sarah Canfield and (2) Melissa M. Blanchard. |
| iv. | David Needham | David was born on June 25, 18283, and he died on March 18, 19053. David married Mary Loving Field. |
| v. | Andrew Warren Needham | Andrew was born on February 13, 18313, and he died on October 8, 18953. Andrew married Aurelia A. Denny. |
---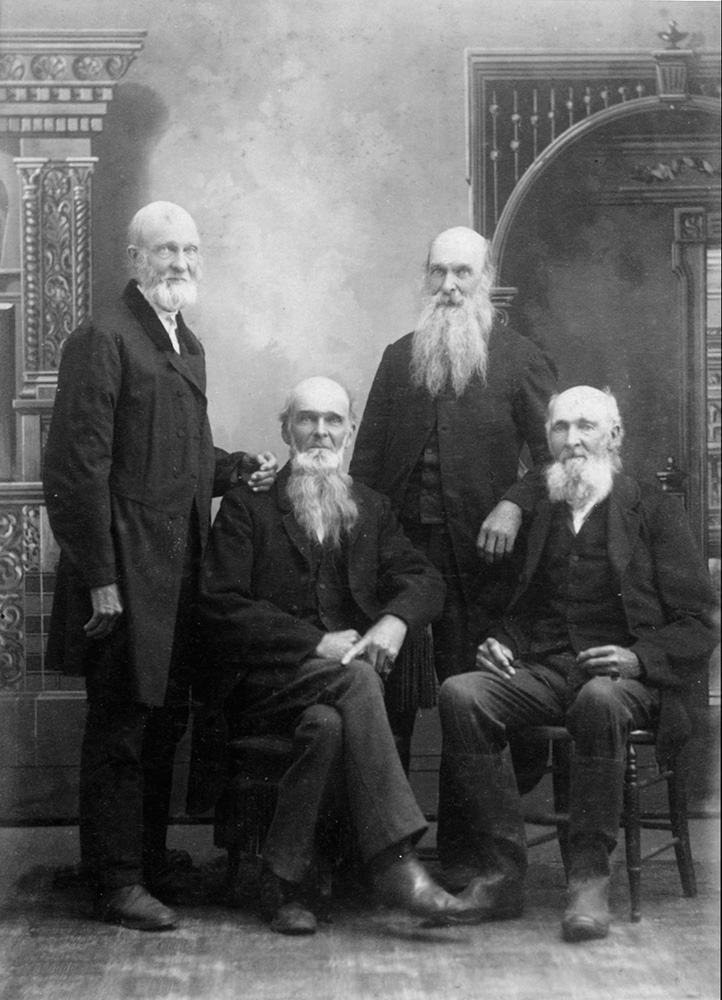 Needham Brothers
Charles, Laban, David and Aaron Green
&nbsp
---
Laban Needham:
Laban Ainsworth Needham was born on November 4, 1813, the first child of Oliver Needham and Lodisa Green1. Laban began his life in South Brimfield, Massachusetts, but soon moved with his parents to Stafford, Connecticut, and then to the Town of Concord, New York3. Laban attended district school in Concord. On March 14, 1837, Laban married Mariam Twitchel3. Mariam was born in Massachusetts on January 10, 1813, the daughter of Lemuel Twitchel and Esther Seaver1.
After their marriage, Laban and Mariam bought a farm next to his parents where they lived for the remainder of their lives3. The Farm Schedule of the 1865 New York State Census gives us a picture of Laban's farm7. He owned 130 acres, which included 90 acres of improved land. Most of this acreage was devoted to pasture and hay production, with only a few acres in crop production. The later included 5 acres of oats, 1 acre of corn for fodder and ½ acre of potatoes. In 1865, Laban had 7 cows, which produced 100 pounds of milk. While his farm was largely a dairy operation, Laban raised a pig for slaughter, kept a few sheep for wool and several chickens for eggs. His orchard contained 100 trees and produced 100 bushel of apples. Laban's was a modest size farm, maintained by him and his wife.
Laban taught school from 1830 to 1840, he was Captain of the Militia from 1839 to 1843 and served as the Town Assessor for 12 years3. Laban was also Town School Superintendent3. Laban and Mariam had no children of their own, however, they were the foster parents of Charles and William Twitchel, orphaned nephews of Miriam, and of Frances Warrington and Anna Kanner. Mariam died on April 8, 18903, and Laban followed soon after on July 18, 18903. &nbsp
---
Warren Needham:
Andrew Warren Needham was born on February 13, 1831, the fifth child of Oliver Needham and Lodisa Green3. Warren, as he was known, grew up on the family farm in the Town of Concord, and attended district school. About 1858, he moved to Meadville, Pennsylvania, where he ran a hotel3. In 1870, Warren was living in Meadville as a Hotel Keeper, and was still single8. In 1880, Warren was still operating his hotel, but he was now living with his wife, Aurelia and stepdaughter Belle Tucker9.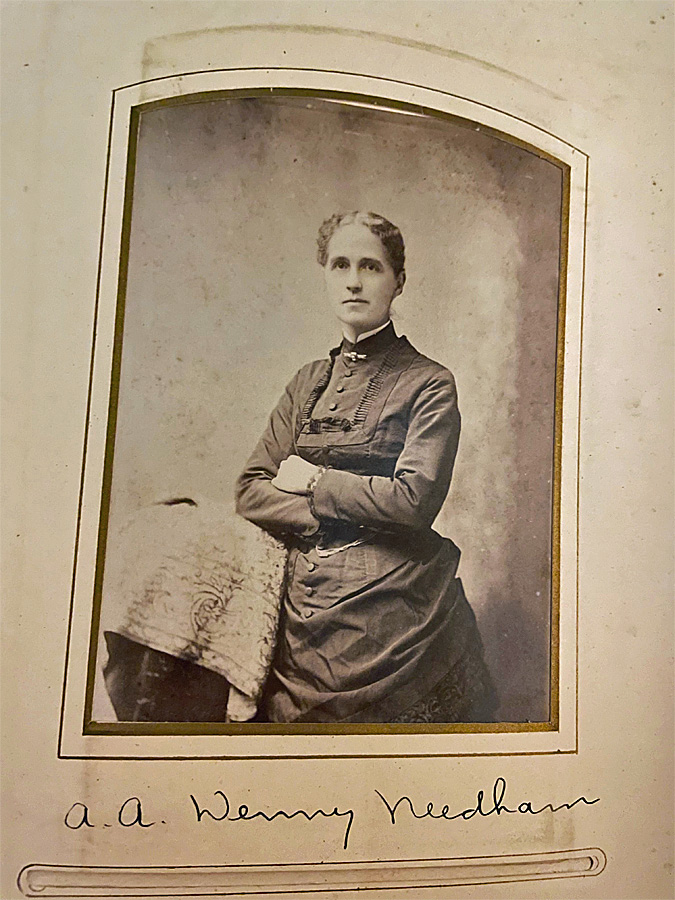 Aurelia Denny
In the years between 1870 and 1880, Warren married Aurelia Denny, who had been previously married. Aurelia was born in April of 183610, the daughter of William Denny and Margaret Denny11.
After 1883, Warren and Aurelia moved to Sorrento, Florida, where they entered into growing oranges. Warren also served as Justice of the Peace for a period and was apparently known as Judge Needham3,
Warren died on October 8, 1895, and was buried in a local cemetery3. Following his death, Aurelia returned Pennsylvania and later had Warren reburied at Meadville. Aurelia died on December 17, 192512.
---
Top | To Needham Surname Index | To Site Main Page
The pages for the Needham Family were last modified in October 2020