The Family of Maximo Perez and Basilia Nolasco

of Mandaue, Cebu, Philippines
---
Perez Family
Santo Niño Statue
Maximo Perez, the son of Ignacio Perez and Anastacia Zanoriz, married Basilia Nolasco about 1880, judging from the birth of his children.&nbsp His descendants recall that Maximo fought for Philippine independence during the Spanish-American War and was killed by the Spanish at a relatively young age.&nbsp His wife, Basilia died December 12, 1935, at the age of 90.

The family of Maximo Perez has a long-standing, special relationship with the Santo Niño.&nbsp For several generations, the family has treasured a small statue of the Santo Niño, and each January they venerate the statue with a novena, ending in a fiesta on the last Friday of the month.&nbsp The celebration attracts many members of the extended family.

The origin of this celebration is not known.&nbsp However, Susan Flores recalls that the Santa Niño statue was handed down from Basilia Nolasco to her three single daughters, Insi Abing, Oray Aning and Insi Tilde.&nbsp This suggests that the statue and likely its fiesta date back to the 19th Century.&nbsp She also related that the statue disappeared during World War II, when the family evacuated to the hills.&nbsp After the defeat of the Japanese and their return home, the statue was found in an old, dry well, covered with banana leaves.&nbsp Celebration of a Novena resumed anew, with the statue being handed down to succeeding generations in the family.&nbsp Today, the statue is in the care of Penny Perez, who hosts the annual novena and fiesta with the help of other family members.

Maixmo Perez and Basilia Nolasco had the following children:
---
---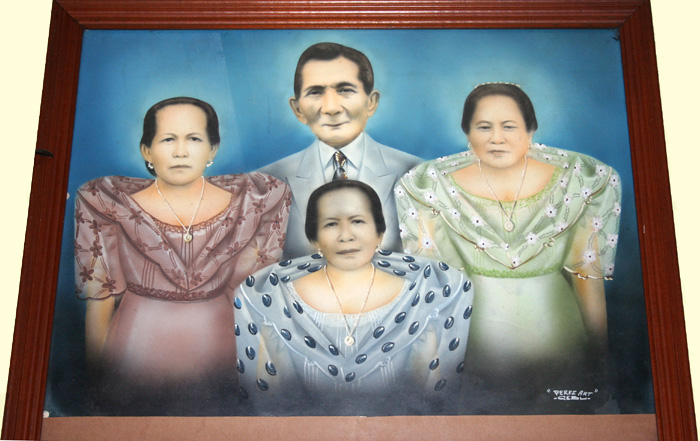 Children of Maximo and Basilia Perez
Patricio
Flabiana &nbsp &nbsp &nbsp &nbsp &nbsp &nbsp &nbsp &nbsp &nbsp &nbsp &nbsp &nbsp &nbsp &nbsp &nbsp &nbsp &nbsp &nbsp Ana
Matilde
---

&nbsp



Patricio Perez


Patricio Perez was born about 1882, judging from his age when he married, and he died August 17, 19613.&nbsp He lived in Looc, Mandaue, where he was a businessman, overseeing the family agricultural properties.&nbsp His descendants continue to live on the family's property.

On May 23, 1904, Patricio married Macaria Arche, the daughter of Genoveva Arche who apparently died within a few years of their marriage.

The family of Patricio Perez and Macaria Arche is:
---
| | | | |
| --- | --- | --- | --- |
| | i. | Pablo Perez | Pablo was born June 30, 1904, and died December 11, 19813.&nbsp He remained single. |
---
Patricio next married Juana Branzuela, the daughter of Eleuterio Branzuela and Casimera Montejo on September 25, 19093.&nbsp Juana died October 30, 19583, at the age of 73.

The family of Patricio Perez and Juana Branzuela is:
---
| | | | |
| --- | --- | --- | --- |
| | ii. | Visitacion "Acion" Perez | Visitacion was born about 1911.&nbsp She married Salomino Flores. |
| | iii. | Pantaleon Perez | Pantaleon was born July 23, 1912, and died March 22, 19223. |
| | iv. | Emiliana Perez | Emiliana was born July 30, 1914 and died June 6, 1977.&nbsp She married Graciano Mendoza. |
| | v. | Manuel Perez | Manuel was born June 17, 1917, and died January 15, 19729.&nbsp He married Flabiana Signe. |
| | vi. | Juliana Perez | Juliana was born February 18, 1920 and died April 27, 1992.&nbsp She married Clemente Bragat. |
---
Family Pictures:



Visitacion Perez with sons, Salomeno and Raymundo


Manuel and Flabiana Perez





Aquiles Mendoza - Natividad Cabahug
Graciano and Emeliana Mendoza stand behind the bride


Family of Clemete and Juliana Bragat
children: Maximo, George, Teresita, Prudencia and Galileo

Patricio is also known to have another child through a relationship with Felisa Arche.&nbsp Felisa was the cousin of Macaria Arche, Patricio's first wife.

The child of this relationship is:
---
| | | | |
| --- | --- | --- | --- |
| | i. | Celso Arche | Celso married Felisa Estrella. |
---
&nbsp




Felisa Perez


Felisa Perez was born about 1884, the second child of Maximo Perez and Basilia Nolasco.&nbsp As a young lady, Felisa entered into a compact with her three sisters to remain single.&nbsp However, she later decided to marry Juan Pepito and as a result was shunned by her family.&nbsp This explains her absence from the picture above.
---
&nbsp




Flabiana, Ana and Matilde Perez


The single daughters of Maximo, Insi Abing, Oray Aning and Insi Tilde, were well known in Mandaue.&nbsp In addition to continuing the family tradition of venerating the Santo Niño, they also prepared Bibingka using their unique recipe.&nbsp The resulting product is still praised by older Mandauehanons for its memorable taste.
---
&nbsp



Teodorico Perez


Teodorico Perez was born about 1896, and he died December 06, 19603.&nbsp He married Bonifacia Soco about 1917.&nbsp Bonifacia died April 24, 1985, at 87 years of age3.&nbsp Teodorico Perez lived in Alang-Alang, Mandaue, adjacent to the homes of his cousins Isabel Perez Sanchez and Bonifacia Perez.&nbsp He was a businessman, overseeing the family agricultural properties

The family of Teodorico Perez and Bonifacia Soco is:
---
| | | | |
| --- | --- | --- | --- |
| | i. | Gregorio Perez | Gregorio married Rufina Toring. |
| | ii. | Simplicio Perez | Simplicio was born November 19, 1919, and died April 16, 19213. |
| | iii. | Jose "Otik" Perez | Jose married Maria Vicenta Naparate. |
| | iv. | Cristobal Perez | |
| | v. | Ciriaco Perez | |
| | vi. | Pio Perez | Pio married Consorcia Murillo. |
| | vii. | Delfin Perez | Delfin married Cresencia Sanchez. |
| | viii. | Dominica Perez | |
| | ix. | Eleuteria Perez | |
| | x. | Eleno Perez | Eleno married Lilia Lumapas. |
---
These pages are our initial attempt to capture the history and genealogy of the Perez family.&nbsp If you have comments or additional information which would add to this story, please contact us at the following address: